Arsenal Coach, Arsene Wenger, says he has no departure plans despite protests from some fans regarding their Premier League title drought.
Protesters in the game against Norwich calling for change drew as much criticism as the Arsenal player's half-hearted performances this season, but it did succeed in putting the coach's future to the fore. Majority of the other fans stood in support of the French coach, but the disjointed mood and another streaky win, against a team they should have beaten comfortably, did cause him to reflect as well as reveal his plans for the future.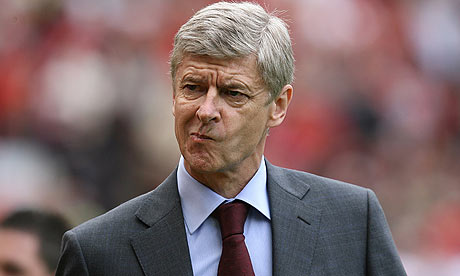 "I give my best for this club. You don't spend 19 years at a club — like Sir Alex Ferguson spent 26 years — without giving every minute of your time. You give your whole life for that and try to do as well as possible. One target is to keep all of the people happy. Unfortunately, I wasn't able to do that this season.
When asked if he would stay on for 26 years, he replied: "No, no, never! Don't worry. I will come to your newspaper and do it as well and ask you after how do you feel? But I think I can take that. I am in a public job and I have to live with judgments as long as it is respectful.
"If it is only opinion — we have all to accept that because we are in a public job," the coach who still has a year contract added. I am not specialist enough to analyze that [there should be change]. I just think that we are here to give our best. We have been remarkably consistent at the top.
"There are disappointed people because we didn't win the league. Believe me, we are as well. Like any Arsenal fans, we have to come back and win it and that is all we can do. I am a football man. I am not a politician. I am not in a democracy. I am in the next game; perform, try to do as well as you can and accept people's opinions. That is what it is about," Wenger said.